Tactical Communications Panther H
The new generation of HF tactical ECCM radios
PANTHER-H is an intelligent frequency hopping transceiver and is the result of many years research to find a tactical HF radio system which provides a Low Probability of Intercept (LPI) and anti-jamming protection whilst delivering reliable, good quality communications on all types of HF link.
-

1.5 to 30MHz in 100Hz steps

-

100 programmable channels

-

Operating modes:-

-

USB, LSB and CW

-

Fixed frequency

-

Adaptive fixed frequency

-

Intelligent frequency hopping

-

Synchronisation: Fully automatic, no time of day entry required

-

Selective calling

-

Hop rate: 10 hops/second

-

Power Outputs:

-

Manpack: 5/25/50 watts

-

Transportable/Vehicle/Base Station: 5/25/100 watts

-

400 watts optional

-

Designed to meet the environmental requirements of MIL STD 810E

-

Operational temperature range of -40 to +70 degrees Centigrade

-

Small size and weight make PANTHER-H ideal for special forces, covert operations and conventional roles
PANTHER-H operates in three distinct modes:
Standard fixed frequency voice and CW, allowing interoperability with existing HF radios.
Adaptive fixed frequency, providing automatic clear channel search to counter high levels of interference.
Intelligent frequency hopping, giving high grade ECCM communications in a congested band.
Conventional Hopping Techniques
Spectral congestion will remain a major problem on skywave links where many users all around the world are competing for the same relatively small part of the HF spectrum. At night, when signal strengths are at their peak the problem is compounded even further.
Owing to the large number of signals in the hop band many of the hop channels will be blocked making "conventional" hopping systems generally unusable.
Intelligent Frequency Hopping
The only viable way to overcome the blocked signal problem is intelligent frequency hopping as employed in PANTHER-H.
The system selects a sub-set of hopping frequencies, which are clear of interference, thus eliminating the effect of blocked channels.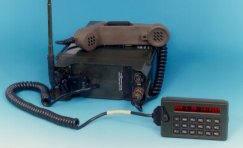 Hop rate is 10 hops per second, which gives good quality communications on both skywave and mixed groundwave/skywave paths. SSB voice is used to maximise voice quality whilst minimising spectral usage enabling the intelligent hopper to fit into narrow gaps in the spectrum.
Hop bandwidths are automatically selected by the radio depending on operating frequency and antenna type being used. Lists of hop frequencies can be manually entered if desired, allowing hop bandwidths up to 2MHz.
The hop sequence is based on a non-linear keystream generator which has a 90 bit hopping key, giving 1027 possible hop sequences. Synchronisation is fully automatic and is based on the battlefield proven Thales Defence systems. No operator action or input such as time of day entry is required. Late entry into a net is automatic and selective calling is provided. The synchronisation data is inserted into the message whilst hopping, with no loss of voice quality.
Initial synchronisation data is sent at 20 hops per second to improve performance and the intelligent hopping radio can be synchronised to up to ten nets at once. The operator changes between nets simply by changing channel. This allows PANTHER-H to cater for changes between day time and night time operation. The radio will retain its synchronisation for over 24 hours of radio silence.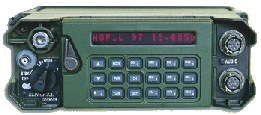 PE1LXS HF mobile/portable